Welcome to my website! My name is Andrew Kilpatrick and I spend nearly all my time doing things related to music. My day job is working on audio and music-related electronics designs for my company Kilpatrick Audio. These creations can be found at synthesizer shops around the world. I also sing and play the electric violin, usually with synths and audio processing. I often perform improvised pieces at electronic music meetups in Montreal Canada which I have called home since 2017.
When I'm not working on music or electronics I enjoy riding my Honda CB500F motorcycle. I became a motorcycle enthusiast in 2014 and believe it's best to explore the world on two wheels. Below you will find a portfolio of some of the projects I have done both in my spare time and as part of my work.
You might want to check out my personal YouTube channel where I share my interests in electronics and music tech.
Want to contact me? Just send me email.
Notable Projects
Neon Captain
Neon Captain was started in 2019 to pursue the development of laser and visual-related products. Our first product is called radiator: the laser synthesizer and was successfully funded on Kickstarter in August 2019. This unique device helps creative people perform live laser light shows using many of the same concepts found on analog music synthesizers. We expect to ship the first units in March of 2020. More info is available at: Neon Captain
Kilpatrick Audio
Back in 2008 I started designing music products, mainly guitar effects. Within a year I had exceeded all my free time and decided to quit my job, sell my apartment and use my savings to work full-time on my designs. It took a while but with help from my partner, we finally got things rolling and have become a well-respected brand in the electronic music business. Since 2010 the primary focus has been on synthesizers. Kilpatrick Audio products are available from music retailers all around the world. You can find out all about us at: Kilpatrick Audio
Dintree
In the summer of 2011 I designed and built a bunch of Eurorack synthesizer modules within the span of several weeks. These were all simple modules but ones that were needed to make my system complete. Not feeling the need or desire to make them into commercial products I decided to release the schematics and info about them for free. I have continued adding more useful projects to the site and have also made some videos explaining how the circuits work. I learned a lot about synth design from others and I hope that this helps to pass it along a little bit. You can find out more info here: Dintree
Hacklab Toronto
From 2008 until 2017 I was a member of Hacklab Toronto and helped out as a board member, teacher and mentor as much as possible. I enjoyed the community spirit and sharing the things I was passionate about like electronics and computer programming. In 2017 I relocated from Toronto to Montreal, so I am no longer involved with the group, however it was an important part of my time living in Toronto and I miss many of the people I met there.
Project Blinkenlights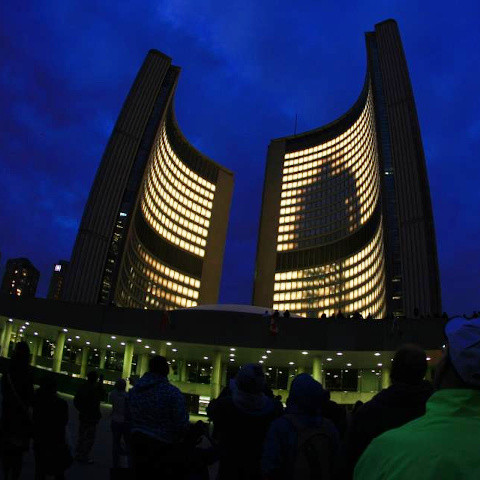 In 2008 I was involved with a team of German artists and hackers working on Project Blinkenlights to present the Stereoscope installation in Toronto. As part of the Nuit Blanche festival, the project took over the windows of Toronto City Hall and make them into a giant video screen with a 150W halogen lamp placed behind each window. This amazing display took the work of about a dozen dedicated people and I was lucky enough to work with amazingly talented people. My team (called the Canadians) consisted of myself and two friends. (Dan and Jonathan) We wrote the video mixer / stream router, and the game engine for project and helped run the network during the actual event. Through this event and meeting all these amazing hackers, I learned about Hacklab Toronto, as well as the existence of the German Chaos Computer Club hacker scene, and I have attended the Chaos Communications Congress in Germany four times since 2008.
Other Interests
Music
Since the age of three I have studied music. I have been playing violin and singing nearly my entire life. I took formal lessons in violin from age 3-18, and singing lessons during high school at a music conservatory in my town. I studied vocal performance with Theodore Baerge at the University of Western Ontario from 1997-2000. During high-school I became interested in composing and started to use MIDI instruments and tape machines to compose and record pieces. My very first electronics project containing a microcontroller was a MIDI laser harp which was built in 1998 and used as part of an electronic music recital at university. Since about 2009 I have mostly played an NS Designs electric violin, processed through effects of my own design. I am currently working on a long-term project to design a sequencer which completely fits my needs and plan to compose and record an album with it once it is complete.
Motorcycling
In 2014 I got interested in motorcycles and spent the winter researching everything there was to read about the subject. In March of that year I took a motorcycle safety course, got my license and bought a 2013 Honda CB500F motorcycle. I used to take a lot of trips on the weekends around the Toronto area and trips to my family cottage. Since moving to Montreal in 2017 I mainly take long trips either back to Ontario to visit family and friends, or trips just for the sake of exploring. My bike is equipped with a windscreen, heated grips, power for my phone, and full hard luggage. I can travel in most kinds of weather and down to about 1-2C. I encourage everyone to take up motorcycling.